Customer Reviews
Durable, cute, fun
I got this for my tux cat and he has loved it as much as I do. He is clearly comfortable while wearing it and it has held up for over 6 months. My cat is an indoor cat and quite a spaz, but it looks just as good as the day i got it. I will definitely build a collection if i get more pets.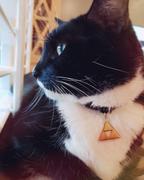 07/20/2020
Tom
United States
Very nice collar
The quality of the collar was better than expected with a very rich green color. Unlike a collar I ordered from Chewy it doesn't have a weak clasp that breaks easily. Thanks.
05/09/2020
Rosa H.
United States
Cute and wonderful collar. Love it. Triforce falls off
Loved the collar. My dog Link , looks handsome and the color green goes amazing with his tricolor fur of black , brown and white. Wish the Triforce stayed on , fell off fairly quickly. Still recommend this product . collar is wonderful and durable just wish triforce stayed on longer. would repurchase again (:
Hi Rosa! We hope the replacement charm we sent made it to you safely and has survived longer! :) Thank you so much for your generous compliments about the product!
05/04/2020
Sandrine
France
Perfect for my dog Zelda
I'm very happy about this collar! I got it for my dog Zelda for... obvious reasons haha. She's quite orange so I figured the green would suit her best (and it's my favorite color anyway) and I was right. I have ordered another one because she recently decided to start gnawing on it, but let me tell you, I am completely happy about doing it multiple times if I have to :D . Very good experience, I recommend this a thousand times :D
11/17/2019
Sylvaine K.
Canada
Triforce Kitty!
My Scottishfold Cat,loves wearing her Triforce!!!!
Neck Sizes:
Cat (7 - 11")
Dog: Extra Small (7-11")
Dog: Small (10-15")
Dog: Medium (15-20")
Dog: Large (18-24")
Dog: Extra Large (17-29")
Cat Collars
Plastic safety break-away buckles are used for your cat's safety.
If the cat collar catches on something, the cat's struggling action will cause the buckle to open, freeing the cat. Not for use with leashes. These buckles are loose.
The bells on these collars are on split rings, so they are removable.
If you don't want a bell on the collar, feel free to leave an order note requesting its removal.
Dog Collars
These are designed for aesthetic purposes, use with a leash at your own risk, we are not responsible for any damage or breakage of the collar during use with a leash.

"Cosplay" collars have a D-ring primarily for the use of adding tags or bells, the

d-ring is usually on the side and not in the ideal position for collar use.