| Pet Type | Size | Neck Size |
| --- | --- | --- |
| Cat | One Size Fits Most | 8-12" (20-30.5 cm) |
| Dog | Extra Small (XS) | 8-12" (20-30.5 cm) |
| Dog | Small (S) | 10-15" (25.5-38 cm) |
| Dog | Medium (M) | 13-20" (33-51 cm) |
| Dog: | Large (L) | 16-26" (41-66 cm) |
Need help picking a size? Check out our Dog Collar Size Guide.
Cat Collars
Plastic safety break-away buckles

are used for your cat's safety.
If the cat collar catches on something, the cat's struggling action will cause the buckle to open, freeing the cat.

Not for use with leashes.

These buckles are loose.
If purchasing a leash for a cat, 

use a harness.

The bells on these collars are on split rings, so they are removable.
Dog Collars
Please understand your dog's strength - some dogs are more powerful than others. Use with a leash at your own risk, we are not responsible for any damage or breakage of the collar during use with a leash. 
"Cosplay" collars have a D-ring primarily for the use of adding tags or bells, the d-ring is usually on the side and not in the ideal position for collar use.
Collar Widths
Cat and X-Small Dog:

 

⅜" (0.9525 cm)

Small Dog:

 

⅝" or ¾" (1.5875 cm or 1.905 cm)

Medium and Large Dog:

 

1" (2.54 cm)
Current Processing Time:
1-3 business days on in-stock items.
If the item is a Pre-Order, please see item listing for estimated ship date.
Shipping Times:
We do not guarantee shipment times for USPS First Class. International packages are currently taking up to 2-3 months.
If you would like faster shipping times, we suggest selecting one of our DHL/UPS International shipping methods.
PROMARE
Catch Studio Trigger's explosive smash hit PROMARE when it returns to theaters nationwide September 16 & 19!
BUY TICKETS NOW
Customer Reviews
Write a Review
Ask a Question
10/25/2021
Katie J.

United States
10/21/2021
Stephanie F.

Canada
Amazing
It's perfect. Thank you so much!
10/03/2021
Anthony

United States
Sunshine approved <3
This was the first time trying a cat collar and Sunshine been super chill with it! It was cute he gently pawed at the Galo charm once to feel it, from then he stood tall to show it off on his cat tower. I was surprised by how easy it is to snap on/off the collar and it stays snug when in place with the breakaway buckles. Sunshine wore the collar throughout the past few days doing the things he normally would; chasing toys, napping, and playing with the other pets. For me, I love how vibrant the red stands out on the collar and how cool it is that this comes with the Galo charm. Much love and many thanks!~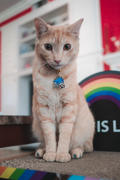 09/28/2021
Topaz R.

United States
Excellent!
Very amazing product and very happy! To be honest I was skeptical until GKids tweeted it out and I got it in the news letter. However, these products are definitely good quality, coming from someone who goes on hikes a lot with their animals. I'm super excited that Pawsonify is making anime/Japanese products for animals. Apache (Shiba Inu) looks stunning in Burning Rescue collar and Lio (cat) looking stunning as well in Mad Burnish collar. I can't wait to put collar on my German Shepard (unfortunately at Gradma's house so not pictured)! Would definitely reccomend and for sure will be coming to Pawsonify again :D