| Pet Type | Size | Neck Size |
| --- | --- | --- |
| Cat | One Size Fits Most | 8-12" (20-30.5 cm) |
| Dog | Extra Small (XS) | 8-12" (20-30.5 cm) |
| Dog | Small (S) | 10-15" (25.5-38 cm) |
| Dog | Medium (M) | 13-20" (33-51 cm) |
| Dog: | Large (L) | 16-26" (41-66 cm) |
Need help picking a size? Check out our Dog Collar Size Guide.
Cat Collars
Plastic safety break-away buckles

are used for your cat's safety.
If the cat collar catches on something, the cat's struggling action will cause the buckle to open, freeing the cat.

Not for use with leashes.

These buckles are loose.
If purchasing a leash for a cat, 

use a harness.

The bells on these collars are on split rings, so they are removable.
Dog Collars
Please understand your dog's strength - some dogs are more powerful than others. Use with a leash at your own risk, we are not responsible for any damage or breakage of the collar during use with a leash. 
"Cosplay" collars have a D-ring primarily for the use of adding tags or bells, the d-ring is usually on the side and not in the ideal position for collar use.
Collar Widths
Cat and X-Small Dog:

 

⅜" (0.9525 cm)

Small Dog:

 

⅝" or ¾" (1.5875 cm or 1.905 cm)

Medium and Large Dog:

 

1" (2.54 cm)
Current Processing Time:
1-3 business days on in-stock items.
If the item is a Pre-Order, please see item listing for estimated ship date.
Shipping Times:
We do not guarantee shipment times for USPS First Class. International packages are currently taking up to 2-3 months.
If you would like faster shipping times, we suggest selecting one of our DHL/UPS International shipping methods.
PROMARE
Catch Studio Trigger's explosive smash hit PROMARE when it returns to theaters nationwide September 16 & 19!
BUY TICKETS NOW
Customer Reviews
Write a Review
Ask a Question
12/30/2021
Taiason C.

United States
11/01/2021
Lauren E.

United States
10/15/2021
Coll, J.

United States
09/30/2021
Courtney E.

United States
So cute!
It's an adorable collar! Easy to adjust the size of and it's not scratchy or anything. It does have a long tag on the inside but it doesn't bother my cat so we left it alone. The lip charm is so so so cute! But my cat wasn't having it so we ended up removing it, still it was so adorable. Everything seems high quality and was packaged nicely. I wouldn't hesitate to get another collar from the shop.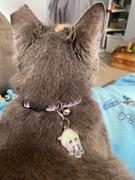 09/30/2021
Aster

United States
09/28/2021
Anthony V.

United States
Burnish in Style~
How cool is it that this collar comes with a cute Lio charm <3 The collar is top quality, snaps on securely and simple to make snug~ Not only is the material great, the design is really eye-catching and the blue/pink flames shine so vibrantly; matches the look and feel of the colors in the movie. Much love and many thanks, looking forward to getting more collars and charms soon!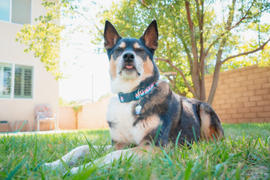 09/27/2021
Ash H.

United States
09/22/2021
Matthew B.

United States
I recommend this product
Looks great; high quality
A very high quality and gorgeous collar! I love the design of the fire and the lobster clip on the charm; my pup doesn't love the jingling of the charm so now I just carry Lio with me always <3 The collar feels very sturdy, looks great, and helps show our support for the Burnish struggle. Thanks Pawsonify!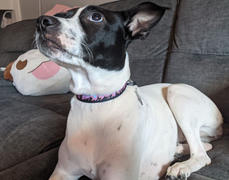 Great product!
Amazing! Second time buying this because I wanted an extra. My Lio looks stunning in it.
10/24/2021
Nichole K.

United States
Wonderful Promare-themed Collar!
Really love this collar and my cat doesn't mind it one bit. Material is sturdier/thicker than the prior collar I was using, but doesn't seem to affect cat's comfort level. Breakaway clasp is tight enough to not easily pop loose but is also not impossible to separate as well. Ended up removing the Lio charm (I'm keeping that for me) and swapping on a tag instead. Great product and very cute - thank you!
10/15/2021
Kristin

United States
So cute❤️
My dog loves the Lio Promare collar, as soon as we put it on her she looked so proud to be sporting it like the little inferno she is, and plus being anime fan myself I have so much praise for the quality of this collar, it's the best collar I bought my dog and very true to her measurements. I will be looking to this store to buy more for my baby again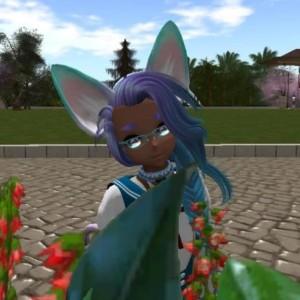 S
10/12/2021
Stormy

United States
Superb design and quality
The collar is so incredibly cute, it fits wonderfully, and it's very high quality. The Lio charm is really cute and it all looks even better with the full set.