Customer Reviews
I recommend this product
Nerf this!
The collar was as bright as the pictures and insanely cute on our little gremlin kitty. The tiny acrylic charm is great with the bell - and we love the clicky-jangle sound she makes when she trots about the home, but mind it does make a bit more noise than a simple bell collar.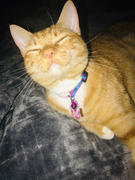 Thank you so much for your generous review! Your kitty looks so adorable and happy! We love her so much. ♥
Neck Sizes:
Cat (7 - 11")
Dog: Extra Small (7-11")
Dog: Small (10-15")
Dog: Medium (15-20")
Dog: Large (18-24")
Dog: Extra Large (17-29")
Cat Collars
Plastic safety break-away buckles are used for your cat's safety.
If the cat collar catches on something, the cat's struggling action will cause the buckle to open, freeing the cat. Not for use with leashes. These buckles are loose.
The bells on these collars are on split rings, so they are removable.
If you don't want a bell on the collar, feel free to leave an order note requesting its removal.
Dog Collars
These are designed for aesthetic purposes, use with a leash at your own risk, we are not responsible for any damage or breakage of the collar during use with a leash.

"Cosplay" collars have a D-ring primarily for the use of adding tags or bells, the

d-ring is usually on the side and not in the ideal position for collar use.