| Pet Type | Size | Neck Size |
| --- | --- | --- |
| Cat | One Size Fits Most | 8.5-12" (20-30.5 cm) |
| Dog | Extra Small (XS) | 8.5-12" (20-30.5 cm) |
| Dog | Small (S) | 11-15" (25.5-38 cm) |
| Dog | Medium (M) | 15-20" (33-51 cm) |
| Dog: | Large (L) | 18-26" (41-66 cm) |
Cat Collars
Plastic safety break-away buckles are used for your cat's safety.
If the cat collar catches on something, the cat's struggling action will cause the buckle to open, freeing the cat. Not for use with leashes. These buckles are loose.
If purchasing a leash for a cat, use a harness.
The bells on these collars are on split rings, so they are removable.
Dog Collars
Please understand your dog's strength - some dogs are more powerful than others. Use with a leash at your own risk, we are not responsible for any damage or breakage of the collar during use with a leash. 
"Cosplay" collars have a D-ring primarily for the use of adding tags or bells, the d-ring is usually on the side and not in the ideal position for collar use.
Current Processing Time:
3-5 business days on in stock ready to ship items.
If the item is a Pre-Order, please see item listing for estimated ship date.
Processing time does not include shipping transit time. Certain products are shipping faster than others.
Shipping Times:
Please remember that USPS is currently not constantly scanning packages. This means that it might show your package as "Acceptance Pending" for days before it shows movement. This is considered normal right now.
We do not guarantee shipment times for USPS First Class. International packages are currently taking up to 2-3 months.
If you would like faster shipping times, we suggest selecting one of our UPS International shipping methods.
Customer Reviews
Write a Review
Ask a Question
11/21/2021
Alec R.

United States
Love it
The collar is very well made and it looks really good. The part that actually has the village logo is very well secured. My dog is a pretty decent size German Shepard , about 50-70 lbs, I honestly don't know haha. But the medium is almost too small I had to fully extend it. So if your dog is anything bigger than about 20-30 lbs I would recommend the large. 10/10 though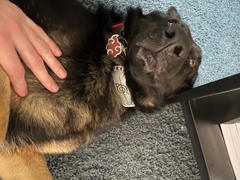 11/08/2021
Doraima R.

United States
11/01/2021
Olivia M.

United States
Get it. Now.
This collar wasn't even scheduled to ship until November and I got it today. This collar is awesome! I was so excited for it to arrive and I was not disappointed at all with it and I don't think you will be either. It's also a great price for what you get! My boy is a lab/pit mix, about 56lbs and I got a size M. Fits perfectly.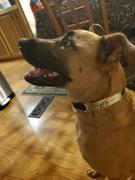 10/30/2021
Rabees R.

United States
10/28/2021
Krystle F.

United States
10/19/2021
Jose

United States
10/14/2021
Renee

United States
This collar is so awesome!
I bought this collar for my kitten who is about 3 months old. I expected it to be a bit big for him but i would keep it until he was older. Surprisingly it fits awesome! you can adjust it pretty far so there is a lot of room for him to grow. It would probably be way to big for a kitten on less than 3 months. I love the bell that's comes on it and the fact that it's break-away! I'm going to buy another one for my other cat on one for my dog too! It's a total hit with all fellow naruto loving friends. I chose to get the anbu tag with it as well and it goes together so well. The engraving is done beautifully on it.
10/12/2021
Ashely C.

United States
10/04/2021
Sandra

United States
10/04/2021
Katelyn M.

United States
11/26/2021
Cristian C.

United States
Great Product
The item has great quality and looks amazing the only problem was that I ordered the wrong size by mistake
11/13/2021
Roseanne C.

United States
LOVE IT PERFECT
Love it - for my 3 month American Eskimo (toy). fluffy fur so the neck size seems big but i got a Small and theres adjustments you can use on the product and so it fits perfectly! Clipped a dog tag with it and my dog is the coolest rogue ninja